Measure glucose in your cell culture media with GlucCell Meter:
Calibrated specifically to measure glucose in mammalian cell culture media (not blood!)

Direct measurement (no need to separate cells from medium)

15 second response time

Precision <5%, Accuracy >90%

Sample vol 1.5 µl

IQ OQ PQ guide available on request
Calibrated to measure glucose only in cell culture media
As with medical glucose meters the GlucCell Meter is based on the oxidation of glucose by glucose oxidase using disposable analysis strips. However, blood is very different to cell culture medium.
Compared to cell culture media the biochemical constituents of blood interact with the oxidation reaction in different ways and give different results. This means that specific calibration is required for both applications.
With GlucCell, you can quickly and efficiently measure the glucose concentration of your culture. The meter works with any type of culture medium.
Simple to use
GlucCell is an ideal glucose monitoring system for laboratories working with ex-vivo cultures, in vitro long-term cultures such as organoids and for monitoring bioreactors. It enables you to quickly measure and record media glucose levels during any type of cell culture application. The disposable test strips come in packs of 50 test strips. Certificates of analysis for each lot of strips are available.
Insert the strip, add a sample droplet and read the result in 15 sec on the large numeric display.
"We are very happy with the GlucCell Meter. Before we started using the GlucCell Meter, we were just using diabetic glucose strips for our culture medium. Unfortunately, these did not always work. The GlucCell Meter was quite expensive, but because it always works, it is definitely worth it's money. We started with 1, but now we have 3 GlucCell Meters in use. We are extremely happy with it."
"The GlucCell meter is a very convenient way of measuring how glucose levels in the media of cultured cells change throughout the culture period. It allows us to optimise incubation time when looking at phosphoproteins that are sensitive to glucose levels. It is also useful for measuring glucose levels in combination with oxygen consumption rate at set intervals."
"We find the GlucCell Meter incredibly easy to handle, clear and with very quick consistent results. The equipment itself is very clearly operated and having used a medical glucose meter for several years very intuitive."
"I really like the GlucCell Meter, it is very useful especially for researchers working with Hollow Fibre bioreactors. I check my cells with it every day and I'm happy with its results. I highly recommend it."
I work with retinal pigmented epithelial (RPE) cells that have been derived from iPS cells that carry patient-mutations in metabolic genes. This differentiation process takes months and the resulting mature RPE cells are limited in number and precious. The Gluccell meter allows me to monitor the glucose utilization of wildtype and mutant RPE cells in a quick, easy and non-invasive way. This has allowed me to generate critical data showing metabolic differences in these cells which I will be publishing in the near future.
Specifications
Dimensions: 96mm x 60mm x 18.5mm

Weight: 70g including battery

Power Source: one (1) CR2032 3V Li coin battery

Battery Life: approximately 1000 tests

Display: large LCD

Automation: auto-electrode insert detection, auto-sample loading detection, auto-reaction time countdown, auto-turn off

Memory: stores up to 180 test results

Environment: 10-40 degree C

Required Sample Size: 3 µL

Measurement Range: 30-500 mg/dL (1.6-33.3 mmol/L)

Test result time: < 15 secs.
Comparison of [glucose] measurements with different devices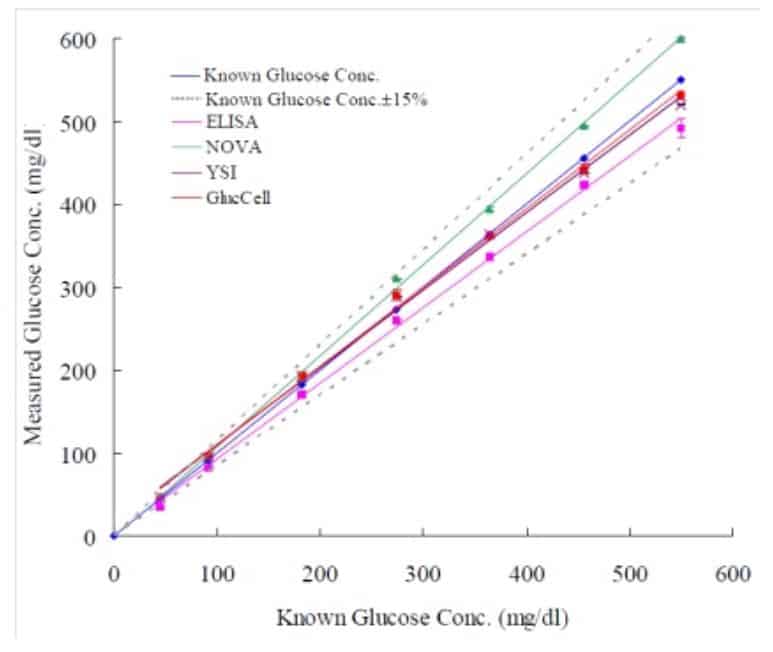 Measurement of [glucose] in various types of culture medium (GlucCell vs YSI)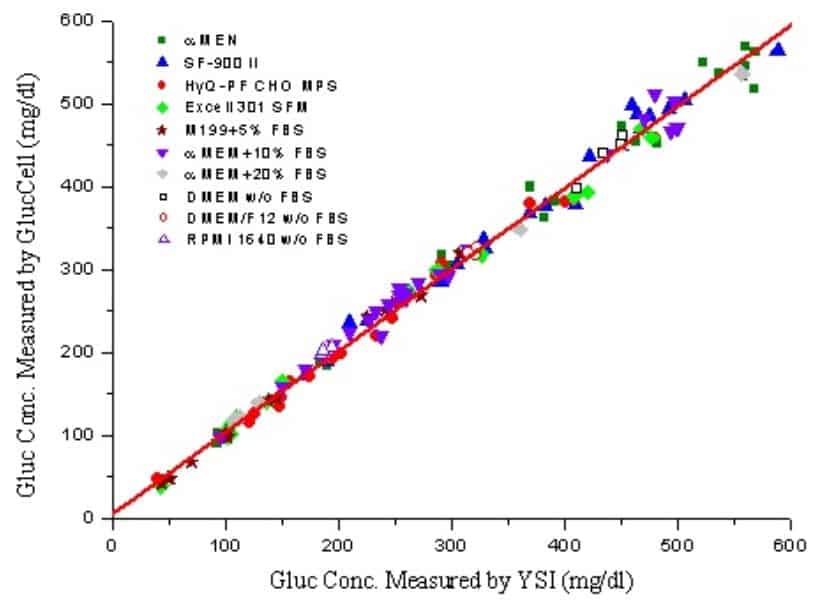 | Cat. # | Description |
| --- | --- |
| GC001000 | GluCell Glucose Meter (includes 50 Test Strips) |
| GC001001 | GlucCell Glucose Test Strips (50) |