GlucCell Meter – accurately measure glucose in cell culture media
Calibrated specifically for mammalian or insect cell culture media (not blood!)
Direct measurement (no need to separate cells from medium)
15 second response time
Precision <5%, Accuracy >90%
Sample vol 1.5 µl
Why it's important
Regular monitoring and control of glucose is important for long-term, trouble-free culture of mammalian cells using a hollow fibre bioreactor or in glucose-critical cell culture for R&D. The GlucCell Meter helps avoid the expense and inconvenience of any errors due to false assumptions about glucose levels.
Calibrated specifically for cell culture media
As with medical glucose meters the GlucCell Meter is based on the oxidation of glucose by glucose oxidase. However, blood is very different to cell culture medium. Compared to cell culture media the biochemical constituents of blood interact with the oxidation reaction in different ways and give different results. This means that specific calibration is required for both applications.
Simple to use
GlucCell glucose monitoring system enables you to quickly measure and record media glucose levels during cell culture using disposable test strips. Insert the strip, add a sample droplet and read the result in 15 sec on the large numeric display.
Specifications
Dimensions: 96mm x 60mm x 18.5mm
Weight: 70g including battery
Power Source: one (1) CR2032 3V Li coin battery
Battery Life: approximately 1000 tests
Display: large LCD
Automation: auto-electrode insert detection, auto-sample loading detection, auto-reaction time countdown, auto-turn off
Memory: stores up to 180 test results
Environment: 10-40 degree C
Req'd Sample Size: 3 uL
Measurement Range: 30-500 mg/dL (1.6-33.3 mmol/L)
Test result time: < 15 secs.
Comparison of [glucose] measurements with different devices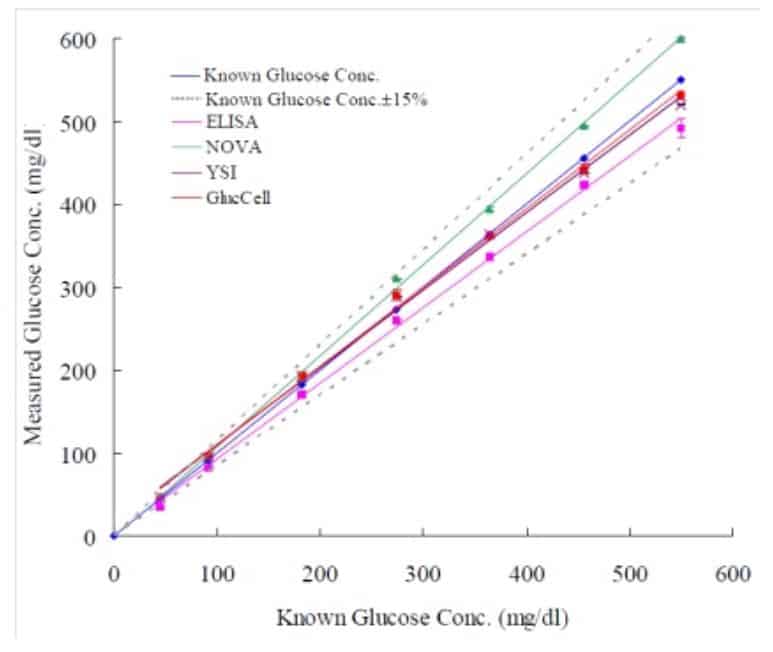 Measurement of [glucose] in various types of culture medium (GlucCell vs YSI)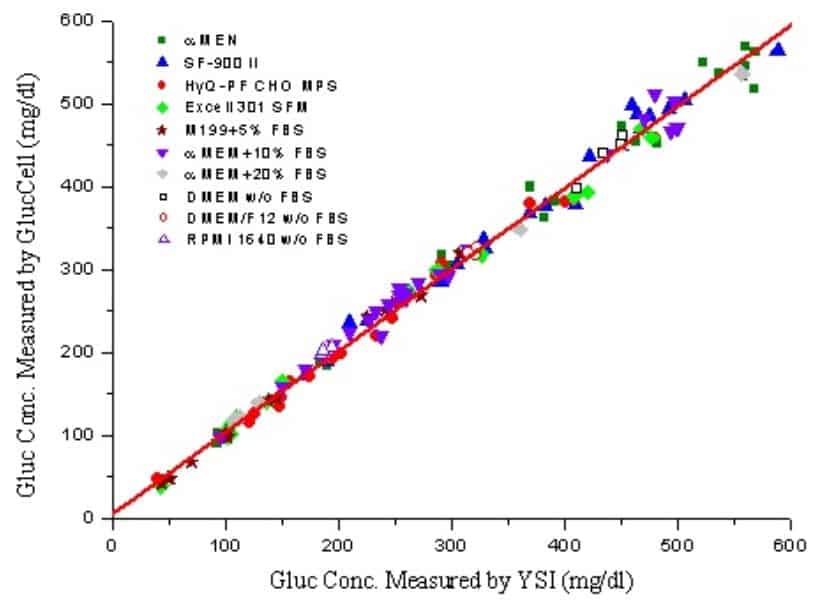 | Cat. # | Description |
| --- | --- |
| GC001000 | GluCell Glucose Meter (includes 50 Test Strips) |
| GC001001 | GlucCell Glucose Test Strips (50) |